« C'est une très bonne nouvelle pour nous ! C'est essentiel, quand on a un tournoi aussi important qu'un Majeur, d'avoir des sponsors du même niveau, c'est-à-dire des entreprises qui ont des positions fortes, à l'échelle internationale, dans leur domaine ». Franck Riboud peut être satisfait de l'arrivée d'Amundi, société d'Asset Management issue de la fusion des gestions d'actifs du Crédit Agricole et de la Société Générale. Ils viennent de signer un contrat de cinq ans qui assure de la pérennité à l'événement qui est un des plus important tournoi de golf féminin mondial. Amundi n'apporte pas qu'une augmentation du prize money, loin de là, ils apportent aussi leurs compétences et leur rayonnement international. C'est un engagement en faveur du sport féminin. Or il se trouve que quand on veut soutenir le golf féminin à l'échelle mondiale, l'Evian Masters est en tête de liste... Le tournoi est très exposé en Asie, ce qui les intéresse aussi, tout comme le programme mis en place pour les jeunes avec des événements dédiés.
« En résumé, l'arrivée d'Amundi à ce niveau de partenariat est la concrétisation et la récompense de toute notre politique sportive. Et ça tombe bien, car depuis quelques mois, cette politique sportive est alignée avec celle de la Fédération française de golf. Ça s'est très bien passé avec la ffgolf, Pascal Grizot et Christophe Muniesa (respectivement président et directeur exécutif de la Fédération, ndlr) nous y ont aidés » confirme Franck Riboud.

"This is great news for us! It is essential, when you have a tournament as important as a Major, to have sponsors of the same level, that is to say companies which have strong positions, on an international scale, in their field. ". Franck Riboud can be satisfied with the arrival of Amundi, an asset management company resulting from the merger of the asset management of Crédit Agricole and Société Générale. They have just signed a five-year contract which ensures the sustainability of the event, which is one of the most important women's golf tournament in the world. Amundi does not just increase the prize money, far from it, they also bring their skills and their international influence. It's a commitment to women's sport. But it turns out that when we want to support women's golf on a global scale, the Evian Masters is at the top of the list ... The tournament is very exposed in Asia, which is also of interest to them, as is the program put in place. place for young people with dedicated events. "In short, the arrival of Amundi at this level of partnership is the realization and the reward of our entire sports policy. And that's good, because for a few months, this sports policy has been aligned with that of the French Golf Federation. It went very well with the ffgolf, Pascal Grizot and Christophe Muniesa (respectively president and executive director of the Federation, editor's note) helped us there "confirms Franck Riboud.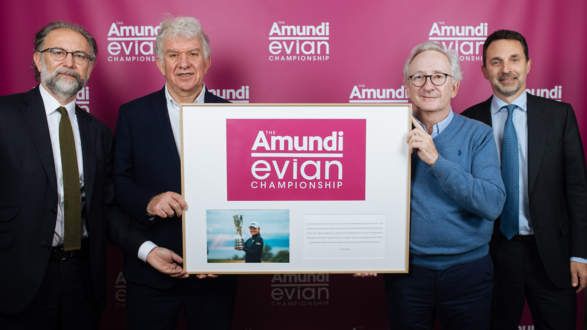 De gauche à droite : Laurent Sacchi, président de l'Evian Resort ; Yves Perrier, directeur général d'Amundi ;
Franck Riboud, président de l'Amundi Evian Champioship ; et Alain Berry, directeur de la communication d'Amundi. (Photo : Matthieu Joffres)