Golfrendezvous a sélectionné pour vous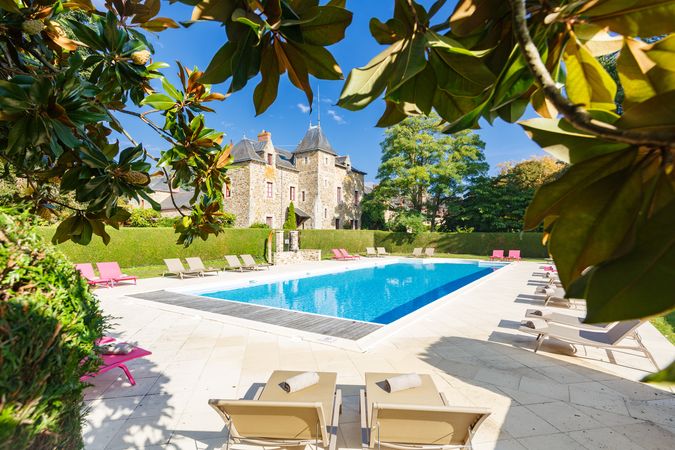 Hôtel : Situé dans le Parc naturel de la Brière, le Domaine de la Bretesche comprend l'Hôtel Relais & Châteaux et son golf. L'Hôtel fait face au château du XVè siècle avec ses tourelles et ses mâchicoulis. C'était une place forte à l'entrée de la Bretagne qui était aussi un territoire de chasse de François 1er. Aujourd'hui c'est le territoire de chasse des golfeurs qui découvrent en ce lieu un magnifique parcours.
Golf : Depuis 1967, le parcours du Golf de la Bretesche d'apparence facile sanctionne les joueurs dès lors qu'ils s'égarent sous les branches des vénérables feuillus. Et quand on sort de la forêt quasi-omniprésente, pas facile de rester dans son jeu : se dressent en effet tout proches les remparts et les tourelles de l'impressionnant château moyenâgeux, juché au bord d'un lac.
Golfrendezvous selected for you

Hotel : Situated in the Natural reserve of Brière, the Domaine de La Bretesche includes the Relais & Châteaux hotel and its golf course. The Hotel faces the castle of the XVè century with its turrets and its machicolations. It was a fortified town in the entrance of Brittany that was also a territory of hunting for François 1st. Today it is the territory of hunting for the golfers who discover in this place a magnificent course.
Golf : Since 1967, this easy appearance Golf de la Bretesche course sanctions the "not concentrated" players since they get lost under the branches of the respectable broad-leaved trees. And when we go out of the quasi-omnipresent forest, not easy to stay in its game: ramparts and turrets of the impressive medieval castle, perched at the edge of a lake indeed raise themselves quite close. Designed by Henri Cotton, it is a good experience and a nice flowering walk in summer...